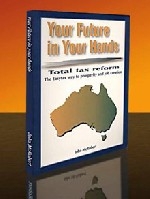 Your Future in Your Hands
Buy Book
$31.9 AUD

Delivery within Australia only
Description
John McRobert explains WHY reform is necessary, WHEN it can happen, WHERE you will benefit HOW it can happen, and how you can help.
The taxation system is in terminal decline. It is costly, confusing and wasteful of our most precious human resource – time. Patching it further is not enough. Your Future in Your Hands details just how this suffocating system impacts on the Australian economy, state by state, industry by industry, and tax by tax. It also clearly describes the options for reform, and provides a solution to this worldwide problem.
A 2 per cent 'easytax' is the only practical way to remove the tax barriers to full employment and so provide the basis for a prosperous future in a country that can meet the challenge of technological change and which can provide a better environment and inspiration for future generations.
Become informed about the facts behind the so-called tax debate. Send a copy to your local member of parliament with the simple message: Do it now! Your future depends on you.
Book Details
Title

Your Future in Your Hands

Author

John McRobert

Publisher

CopyRight Publishing

Pages

178

Type

Paperback

ISBN

1875401741